Well after a couple of years the sol is on its way to becoming what I always wanted so I thought I would actually take sometime to right the spec up and share it with everyone. the sol is currently in the garage with the interior out waiting for some dry weather to fit the new harness belt fixing points, more on those later and ppl will have to wait for the pics of the new seats but they look fooking awesome!
anyway the spec so far is:
DelSol Spec
Exterior
Aux light delete smoothed and blended
Front Spoon lip
Rear wing removed
EK9 skirts
Original JDM Headlights
Full re-spray in original Flint Black
Arial delete completed with the re-spray
Dress up screw kit
Wheel nuts (forgot the brand?)
6000k HID kit correct H4H 702K fitment
LED low beam headlight bulbs 6000k
LED rear number plate bulbs 6000k
Rear fog light modified to fit in original light cluster
Smoothed rocker cover
Pressed number plates
Interior
Full JDM interior
Perfect JDM red strip DelSol sets
Seats replaced with Bride Cuga in red
Custom seat frames by Morf
Takata Seat Belt harnesses
Rally spec harness fixing points
Rear Harness bar imported from the states
Momo steering wheel
Momo boss
NRG quick release (currently off)
Wink rear-view mirror
Skunk2 Gear knob
All speakers replaced
New stereo + Bluetooth phone kit
Original aerial cable removed and new front wind screen aerial fitted
JDM Flair & bracket
New boot struts
New interior clips
Mugen Pedals (not attempted the accelerator)
Interior grey bits changed to some crazy Japanese fabric 
Instrument cluster LED's replaced with ice white SMD T5 5050
All interior light bulbs replaced with LED bulbs
Custom boot popper fitted using OEM Transtop button to keep the dash looking OEM
Interior strip down with inspection and clean
Aux switch on centre console modified to switch rear fog light on
Engine
NRG torque dampener
Pull fan on radiator
Dress up kit (in parts)
PW JDM battery stay
HKS Grounding kit
Skunk2 spark plug cover
Stage 2 Clutch kit (don't know brand)
K&N replacement filter element
Skunk2 MegaPower exhaust with custom 'floppy end'
DC Sports Header/exhaust manifold + heat wrap + skid plate
SamcoSport hoses
Smoothed rocker cover in black
Chassis
Full 98 ITR 5 stud conversion + new front disk and pads + a calliper
Teshi Coilovers (like the Zeta-R's)
Rear ITR anti-roll bar powder coated in Kawasaki green
Rear Upper Skunk2 strut bar
StrongFlex bushes on anti-roll bar
ASR sub frame Brace
Beaks Tie bar (not fitted atm)
K-Sport adjustable rear camber arms
CyberSpeed adjustable toe arms
Front D2 adjustable camber arms
ITR grey alloy wheels
Full fast road setup by GrinSpeed
Back to the original 1st post:
I will apologies now I dont get a lot of free time to work on the sol so this will be a long thread lol
i have a post in the 'newbie' section however some of you may know i have been on here for a long time as i previously owned a Delsol, anyway to the new one! whooooo
i have bought Bennyegg's old Delsol (he has a long build thread on the civiclife forum) and i am wanting to restore and clean it up and upgrade where needed....
the only day light picture i have out of the garage in its condition is the one when we me and Morf (civiclife member and all round good lad) did a 14 hour road trip to get it!
here it is:
this is what i know:
1992 SiR in Black
Manual roof
AC still plumbed in and staying in
original B16 (i think) with 209000km on the dials! so its done a good few to say the least, still reading in KMH...
original interior besides the chicken print panels lol (looks good tbh)
5 Stud ITR conversion from a 1999 UKDM ITR
ITR Dark Grey Alloys
K-Sport rear camber kit
Skunk2 MegaPower Exhaust with down turned exit
CAT has been installed as Benny said it was too load,i will be removing this
DC Sports Wrapped Manifold with custom grind/spark/protection plate
Stage one clutch
white dials
Spoon replica lip fitted to front bumper
AUX and Fog light delete
smoothed rocker cover with smarties spark plug cover
EK9 side skirts
pressed number plates
That's all i can think of for now...
my plans for the car are to restore what Benny has started, by that i mean i will try my best to get this car pristine! replace what needs replacing correct what needs correcting and improve on what i can afford....
to do/get:
I want some coilovers to drop the sol back down maybe 50mm?
Keep the ITR wheels i think the sol looks great with them on
front camber adjusters
new original mats
Decat
repair or replace red striped drivers seat
fit my old Skunk2 gear knob (so happy i saved it!)
maybe do an aerial delete too (will need help with this)
JDM Flare mount + flare
Suede wheel - Momo boss on its way already thanks Simmo just need a quick release now....
things to repair or replace:
can anyone help here
(i will put a wanted post up after this)
clutch bite is high! could be a clutch issue its a stage one fitted 2 years ago so i would have thought it should be OK but its not
any ideas guys?
flush engine and box replace with new
new VSS sensor
fit a converter to VSS cable to read in MPH - getting one from EBay £30 -
has anyone fitted one?
replace worn boot struts - PaulM is in there with some new ones for me
bumper clips front and rear
top bumper clips (see pics below)
air box screws
air box mounting screws
scuttle panel plastic caps (see pics below)
gear and handbrake gaiter
spray rear speaker covers black again
here are some random pictures from this morning just checking for bits i need to start off with...
need new screws anyone know the length or have any?
need some of the covers for the scuttle panel, is there a screw missing there?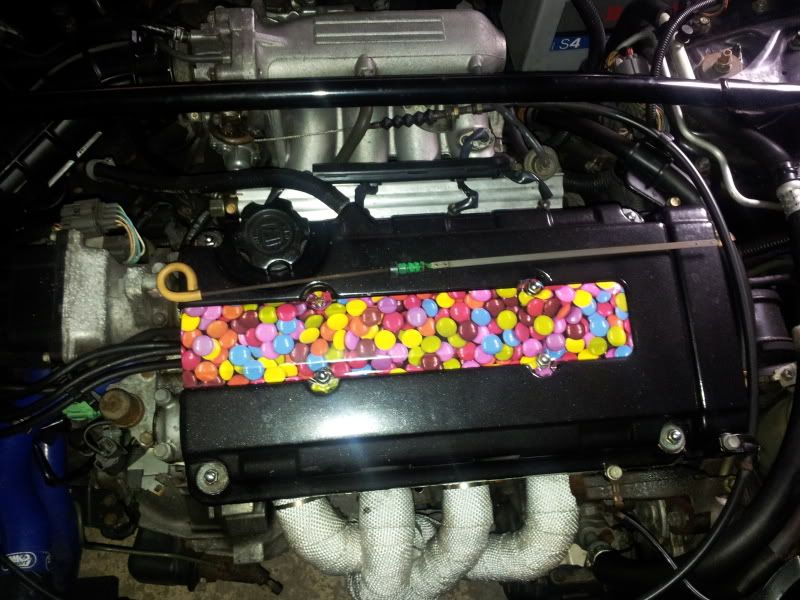 engine shot - forgot how small the dip sticks were lol
need a new VSS sensor and to wire in a converter, there isnt much room to do all that so not looking forward to it lol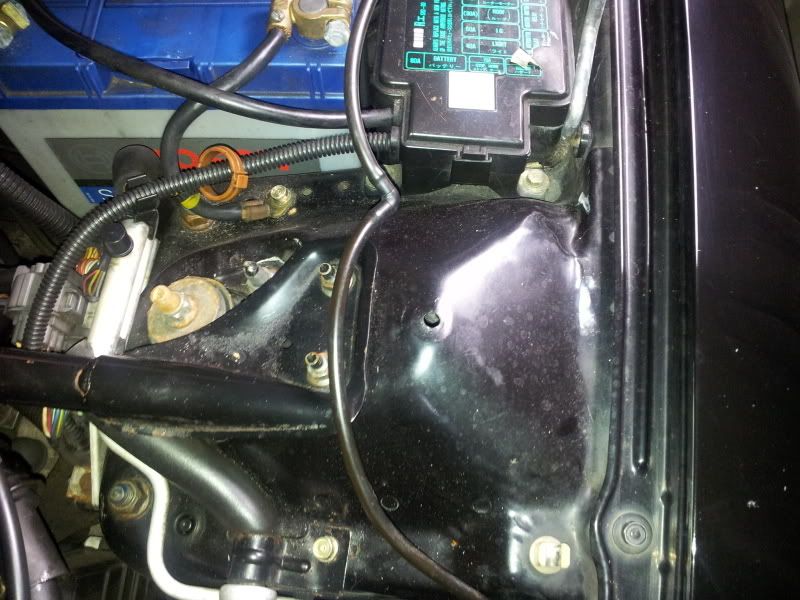 i need the clip that holds the jet washer cable in place
anyone have any good tips to clean this up?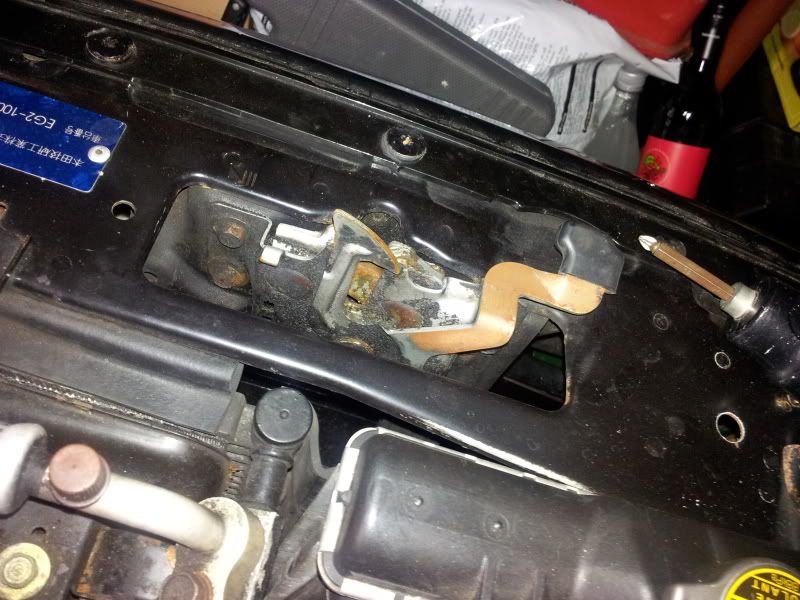 can we alter the bonnet catch? its a pain to close?
i need some bumper clips if anyone has any?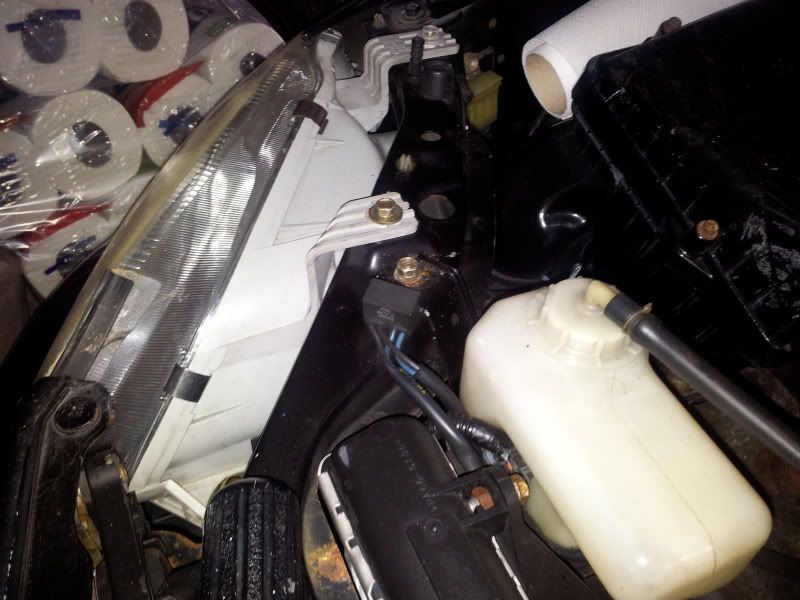 anyone know what the black box is on the panel? is it the bonnet sensor for the alarm?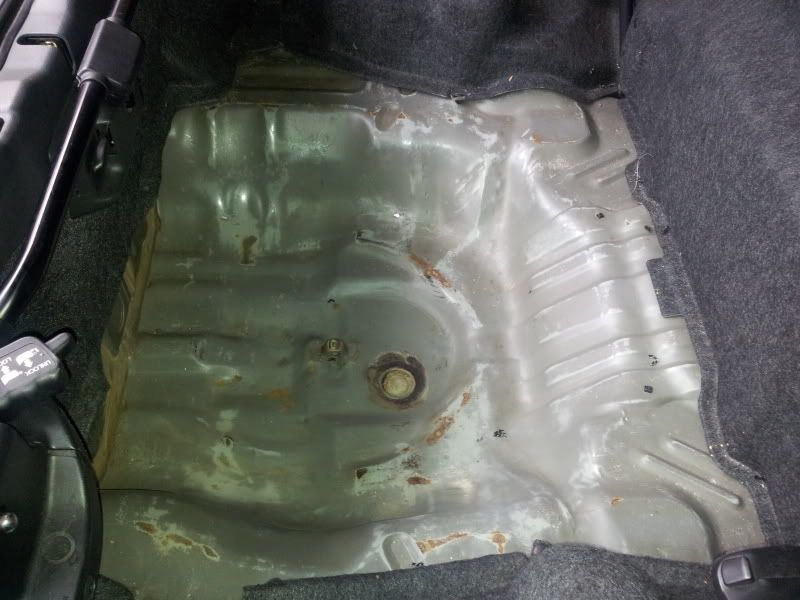 boot looks in good nick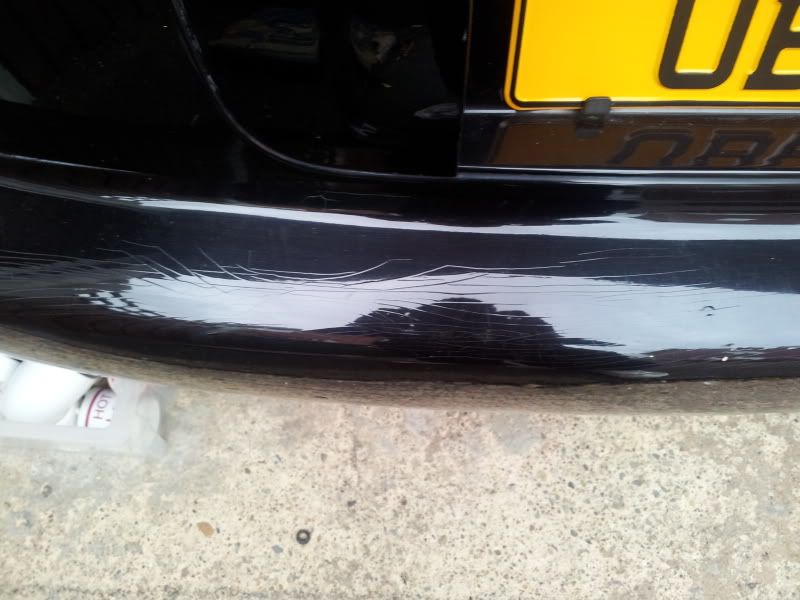 paint cracking
once finished ill get the car blown over and all the little marks repaired and sprayed...
this picture is of the 5 stud conversion kit and what was installed,
when shopping for coil-overs would I need ITR fitment ones? or would any other type fit?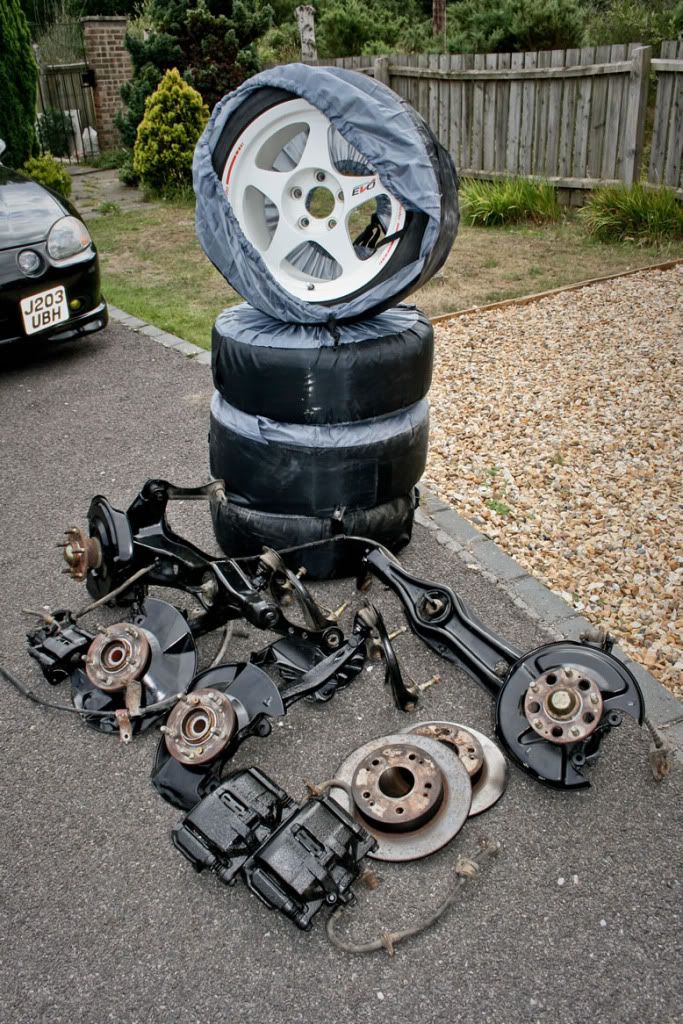 cheers for looking and i really wish i hadn't started this with the hangoveri have got!
got to do a wanted thread now!